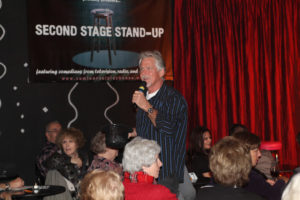 Currently Tom produces two ongoing shows in Orange County, CA. Second Stage Stand-up at the Camino Real Playhouse (with longtime friend and comedian Ron Ruhman) which just celebrated 8 years of shows, and in 2016 Tom began producing another monthly show, "Lass Your Aff Off" at Adele's at The San Clemente Inn. Both shows continue to sell out on a regular basis. Complete schedules for both show can be found at ComedyInTheOC.com. In addition to these monthly shows, Tom also produces, as well as performs in countless corporate, private, and charitable events throughout the year.
For more information about booking an upcoming event please click here.
---
Over 25 Years of Experience!
Tom's first stab at producing shows was at the Holiday Inn in Laguna Hills, CA (now The Hills Hotel) in 1992 after only doing stand-up for about a year. "The hotel was just down the street from my house, so one Sunday night I drove over and wandered in to the lounge area and noticed the place was empty at 7PM. The only person there was the bartender."
The very next day Tom went back to meet with the GM and proposed a comedy night featuring different comedians each week. He would do it for $75 a show. The weekly show ended up running for 5 years, which even by today's standards is a long run for a stand-up comedy show. Over those years Tom made many connections with comedians as well as had a place to perform each and every week.
Since that time, Tom has continued producing and performing in shows regularly. He understands what is needed to make a show great as well as what the audience expects. As Tom says, "I would never produce a show that I wouldn't want to perform in myself!"